Exotic beaches with coral reefs and fantastic marine life provide a stunningly beautiful scene, providing an ideal trip to Andaman away from the rush and bustle of city life. For outdoors lovers and adrenaline addicts alike, this chain of islands is paradise. 
Port Blair, the entrance to the beautiful islands, is the capital of the Union Territory of Andaman and Nicobar Islands. Many water-based activities, including, Jet Ski, Sea Kart Ride, Sea Walk, Parasailing, Dolphin Glass bottom Boat Ride, Semi Submarine Ride snorkeling, scuba diving, and sea cruises, are available in this island community.
You may also get a notion of the region's history and culture. The Aberdeen Bazaar, an excellent place to meander about, is located in the town's heart. These islands, which number approximately 572, are covered in lush rain-fed, wet, evergreen forests with a plethora of unusual flora and wildlife. Only 28 of the thousands of islands are inhabited and available to tourists.
Andaman also has the Ten Degree Channel, which is 150 kilometers wide, separates the two islands of the Andaman and Nicobar Islands. The Cellular Jail, Ross Island, Viper Island, Hopetown, and Mount Harriet are among historically notable monuments on the islands. 
The Andaman and Nicobar Islands are the ideal tourist location in India, with a broad range of activities and an outstanding underwater life. A trip to the islands is a must for anybody who enjoys the sun, sand, and beach. A comprehensive Andaman and Nicobar travel guide will undoubtedly highlight all of these attractions for visitors. 
How To Reach Andaman And Nicobar Island 
---
If you're planning a vacation to Andaman and Nicobar Island and want to know the best route to get there, we've got all the information you'll need right here.
By Air:
Every day and week after week, there are on-time flights to Andaman. Port Blair is the nearest and most important aviation terminal in the Andaman & Nicobar Islands. You may pick from a variety of flights, including:
By Water: 
If you want to go to Andaman via water, there are three ports in India where you may do so: Kolkata, Chennai, and Visakhapatnam / Vizag. The timing and length of each of these ports are varied. If you are coming from anywhere other than these locations, it will affect the pricing. For your maritime travel, you have the option of going to Chennai, Visakhapatnam, or Kolkata.
V. Nicobar, M.V.Nancowry, M.V.Akbar, V.Harshavardhana, M.V.Swaraj Dweep are some of the ships that operate between the different places of India and Andaman island.
Best Time To Visit Andaman and Nicobar Islands: 
---
When planning a vacation to the Andaman Islands, most people choose to visit during the peak season rather than the offseason. Here is the finest Andaman tour guide to assist you in determining the ideal time to visit Andaman. To be sure, Andaman and Nicobar Island is a year-round tourism destination where visitors may have a great time. Temperatures may fluctuate, and the climate might shift at any moment. However, if you still want to know what the optimum time is, it's from November to May. Because of the high demand this season, book your Andaman Nicobar vacation packages in advance.
Monsoons may disappoint you due to large tidal surges, constant downpours, and strong winds. As a result, it is usually best to avoid visiting Andaman during the monsoon season. The greatest time to visit this island is during the summer when the temperature is slightly warm. The views of the Little Andaman, Diglipur, Smith and Ross Island, Havelock Island, and other islands are breathtaking.
Popular Destinations for Trip to Andaman:
---
While you're organizing your next relaxing vacation to the picturesque island of Andaman, don't forget to visit the renowned and eccentric sites for a once-in-a-lifetime experience! Some fantastic spots to visit in Andaman are listed below. Read on! 
Port Blair:
Port Blair, the capital of the Andaman and Nicobar Islands, is located off the coast of India. Port Blair is also the capital of South Andaman and a significant naval station in India. It is well-known for the Indian Navy's INS Jarawa, which was the country's first tri-command. The ancient Cellular Jail is also located in the city. 
The Andaman and Nicobar Islands are also accessible from Port Blair. By air and water, the city is well linked to the rest of India. While it is currently not feasible to travel to Port Blair from outside India, there are several direct flights from Kolkata, Chennai, New Delhi, Hyderabad, Mumbai, Bhubaneshwar, and Visakhapatnam. Although it takes 3-4 days to go by water from Port Blair to Kolkata, Chennai, or Vishakhapatnam, it is viable. 
Top Places to Visit in Port Blair for a trip to Andaman: 
#1. Cellular Jail 
The Cellular Jail, commonly known as 'Kala Pani,' is an ancient colonial jail in Port Blair, Andaman and Nicobar Islands' capital. It was constructed by the British during their colonial reign in India and was mostly used to expatriate Indian political prisoners. Many important liberation fighters, including Batukeshwar Dutt, Yogendra Shukla, and Vinayak Damodar Savarkar, were housed there. 
Highlights: 
You cannot miss the cellular jail light and sound. 

The architecture of Cellular Jail catches your attention

Cellular Jail Memorial reminds you of all the struggles of the freedom fighters. 
Timings: The timings are: 9:00 AM – 1:00 PM and 2:00 PM – 5:00 PM. It is closed on Mondays
Entry Fee :
Entry Ticket: INR 30

Camera: INR 200

Video Camera: INR 1000

#2. Corbyn's Cove Beach 
The beach closest to Port Blair is Corbyn's Cove. It is quite popular with both visitors and residents. Certain areas of Corbyn's Cove Beach include seating arrangements for a better view of the horizon from a higher vantage point. Some shacks serve native delicacies, beverages, and coconut water, among other things. The beach is one of the spots where travellers may get excellent prices on apparel, accessories, and other souvenir products. 
Timings: 12:00 AM – 12:00 PM all days in a week 
Fees: Free 
#3. Mahatma Gandhi Marine National Park
Mahatma Gandhi Marine National Park, also known as Wandoor National Park, is a marine life conservation area on the south-western coast of the Andaman Islands, some 25 kilometres from the capital city of Port Blair. The nature sanctuary is made up of a labyrinthine network of 12 islands that are home to some of the world's most beautiful marine life, including corals and resting sea turtles, among other species.
The national park, which spans over 220 square kilometres, is a terrific site to go snorkelling or diving in the crystal blue waters of the islands, allowing visitors to get up and personal with nature. 
Highlights: 
15 islands with sandy beaches and waterways make up the National Park.

It is home to wildlife such as the Andaman wild pig, spotted deer, king cobra, pit vipers, and gecko, as well as stunning corals and a mind-boggling array of marine species.

From November to February, the park becomes a breeding site for the world's biggest turtle species, the leatherback turtles.
Timings: The Boat trips start at 8:30 AM – 10:30 AM 
Entry Fee: 
Reserve entry: INR 50,

Camera: INR 25,

Boat ride to Red Skin Island or Jolly Buy is 300 INR 
#4. Chidiya Tapu 
Chidiya Tapu, often known as the bird island, is a charming tiny island in the Andamans, about 25 kilometres from Port Blair. While birding is the major draw to the area, there are also some interesting aquatic activities like snorkelling, scuba diving, deep-sea walking, pearl searching, and boating to enjoy along its coasts. The island's Sunset Point is regarded as one of the greatest sunset spots in the Andamans. A walking road runs from the beaches of the gorgeous beach to the majestic Munda Pahad, a prolonged black rock at the border of Chidiya Tapu with an open coastline offering an outstanding view of the deep blue ocean. The drive to the beach passes through Kalpathar's interesting rocky cliffs.
Highlights: 
Participate in water sports.

Visit a bird sanctuary.

Trek to Munda Pahar Beach 

 Explore the Chidiya Tapu Biological Park
Timings: 6:00 AM – 6:00 PM
Entry Fee: No Entry Fee 

#5. Mount Harriet National Park
Mount Harriet National Park is, without suspicion, the most magnificent of the Andaman island's nine national parks. Mount Harriet is the third tallest mountain (365m) in Andaman and Nicobar and the most readily accessible. It is located in the Ferrargunj Tehsil of Port Blair. The national park covers 46.62 square kilometres and is home to a variety of birds and animals. The park's exceptional elevation position provides breathtaking views of the azure blues that surround the island, as well as interesting sunset and dawn experiences. 
Highlights 
You cannot miss Madhuban Beach, the Butterfly House, and the Orchidarium.

Go on a hike.

Take a look at the lumber-carrying elephants.

Explore observation deck to take images from a higher vantage point.
Entry Charges: 
For Indian Adults, the entry charges are 25 INR per person and for children from the age of 5 to 12 years is 10 INR per person. 

For Foreigners Adults, the entry charges are 250 INR per person and for foreign students, the charges are 10 INR per student. 
#6. Ross Island- Netaji Subhas Chandra Bose Dweep 
In 2018, Prime Minister Narendra Modi renamed Ross Island, which was initially named for Captain Daniel Ross, the "Netaji Shubash Chandra Bose Dweep." It is located in Port Blair's south Andaman district, just five kilometres from the Water Sports Complex, providing it one of the most convenient inter-island attractions on your route to the Andamans.
Although most of the sites in the Andaman are known for their beaches, Ross Island adds a touch of history to your visit
Highlights: 
Explore the Ruins

You cannot miss the Light and Sound Show 

Pay a visit to the Sanctuary.

Investigate the man-cave.

Pay a visit to the Pond.

Relax and unwind over a delicious meal.
Entry Fee: Adults must pay Rs. 30 to visit Ross Island, while children must pay Rs. 25.

#7. North Bay Island 
Tourists flock to Andaman's North Bay Island for its beautiful coral reefs and thrilling adventure activities. The image of an island on the reverse of a 20 Rupee note is of North Bay Island, which is interesting.
When it comes to luring visitors, North Bay Island competes with some of the world's most stunning islands. Scuba diving, snorkelling, sea walking, and glass boat cruises are among the most popular tourist activities. There are more activities here than on Neil Island or Havelock.
Highlights: 
Get up and personal with the wonderful marine life, swim with the vivid schools of fish, and enjoy the stunning corals.

Go for a stroll on the beach or a trip in a glass boat. 

Neil Island :
It is separated from Ross Island and Havelock Island by a large body of water, tourists visiting Havelock often make a day excursion to Neil Island. The island's three sandy beaches, Bharatpur Beach, Sitapur Beach, and Lakshmanpur Beach, are perhaps its most charming characteristics. The forest cover has been greatly diminished owing to rice farming. However, a part of the island's northwest is actively being protected.
The temperature in areas where forest cover has been removed is a couple of degrees higher than in areas where there is ample vegetation. Neill Island, however, is the primary source of veggies for the majority of the Andaman Islands.
Because of its small size, You may explore Neill Island on foot. All three beaches are beautiful and immaculate, and they are all conveniently accessible to the mainland so must include Neil Island in Andaman Trip.
Top Places to Visit in Neil Island for Trip to Andaman:
#1. Sitapur Beach 
Sitapur Beach is also known as Sunrise Beach or Beach Number 5. It is completely safe to glide in and is largely noted for its gorgeous golden sunrises and sunsets. Because there are so few locations to get food and drink, it's best to bring your own. From Port Blair to Neil Island, you may take a jetty or a ferry to Sitapur Beach. 
Timings: All Day
Entry Fee: No Entry Fee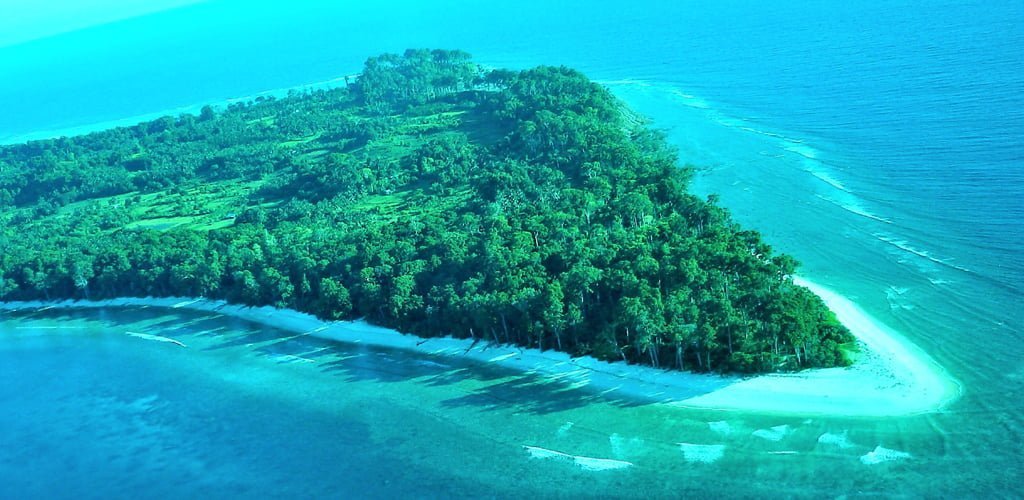 #2. Laxmanpur Beach 2 
Laxmanpur Beach is a wide beach on Neil Island that is divided into two parts: Laxmanpur Beach I, known for its breathtaking sunsets, and Laxmanpur Beach II, known for its different natural arch bridges, or Howrah Bridge. During low tide, the quantity of corals and marine life on the coasts is popular with tourists. Because you will have to walk across dead corals to get to the natural arch bridge, it is strongly suggested that you wear appropriate footwear. A wide variety of aquatic species may also be seen here. 
Highlight
You cannot miss the trek to the Natural Bridge. 
Timings: 8:00 AM – 5:00 PM, 
Entry Fee: No Fee 
#3. Laxmanpur Beach 1 
On Neil Island, Laxmanpur Beach 1 is famed for its stunning sunsets. The sunset location is just across the street from the beach. Amazing sunset views are available from the huts and benches along the coast, where visitors may rest and take in the scenery. To get a good location, arrive 15 minutes before sunset. 
How To Reach Neil Island during the trip to Andaman?
Havelock Island and Neil Island are connected by a ferry. A ferry from Port Blair to Neil Island is also available. 6:00 AM and 11:00 AM are the ferry times from Port Blair to Neil (via Havelock). Depending on the kind of service you pick, the fee is INR 1500 – 3500 by ac luxury Cruise like Makruzz, Green Ocean, Sealink, Nautika, ITT Majestic.
Havelock Island – Swaraj Dweep: 
Havelock Island is one of the most populous and well-known islands in the Andaman and Nicobar Archipelago. Ritchie's Archipelago and a cluster of five villages, including Shyam Nagar, Vijay Nagar, Radha Nagar, Krishna Nagar, and Govinda Nagar, are named for a British General. When it comes to tourism, it is among the most developed islands, with a concentration on eco-tourism.
This site is a stunning representation of the region's natural splendor, with silky sand beaches, crystal blue sea, abundant reefs, and green woodlands. Elephant Beach and Kalapathar Beach are two additional locations with spectacular sunrises and sunsets. Furthermore, you may participate in a variety of exhilarating adventure activities and water sports, and when you're done, a long stroll down the beach is the ideal way to explore the island on your own.
Top Places To Visit in Havelock Island- Trip to Andaman:
#1. Radhanagar Beach 
Radhanagar Beach at Havelock Island was named 'Asia's Best Beach' by the TIMES magazine in 2004. With its azure blue waves and powdered white beaches, it lives up to the accolade. Its 2 kilometre-long coastlines of infinite white grains make it a popular tourist destination in the Andaman and Nicobar Islands so, don't forgot to see Radhanagar beach during Trip to Andaman. The United Nations Environment Programmed has granted the beach a Blue Flag Certificate. 
On the outskirts of the beach, food booths and merchants provide fresh and excellent seafood, as well as drinks to keep visitors refreshed. While people spend hours just reclining at this gorgeous paradise, you may reserve beach mattresses, parasols, and umbrellas. Because Radhanagar Beach Andaman is so close to Elephant Beach, mahouts may take their elephants out for a joyride to the holidaymakers. The beach is also safe, with lifeguards on patrol and ready to help.
Highlights: 
The seafood vendors and beverage stands that line the beach is a must-visit. The freshwater fish is delicate and well seasoned.

These simple sweets are specialities from the area that are worth trying.

Through the canopy of palm palms, you can see the sunrise and sunset.
Timings: 6:00 a.m. to 5:00 p.m. Make sure you leave before 5:30 PM since it starts to grow dark at 4:30 PM. 

#2. Elephant Beach 
The Elephant Beach, with its bright coral reefs and appealing blue seas, is one of the spots that contribute to the Andaman and Nicobar Islands' beach paradise reputation. Tourists who are interested in water activities such as snorkelling, swimming, banana boat rides, speed boats, and diving flock to these waters. Elephant Beach may be reached in two ways: by boat from Havelock Jetty (1000 INR per person) or by trekking for a half-hour with a coach (INR 500). The trip begins 2 kilometres from Radhanagar Beach.
For those looking to relax, the beach has a variety of intriguing food and drink choices to choose from while relaxing on the sands. Other adventurous activities like bird-watching, hiking, and kayaking are available. Because this location is known for its coral reefs, sea walking is a popular pastime for practically all visitors to this beach, making it one of India's top beaches. 
Highlights: 
Sea Walking 

Relaxing at the beach 

Boat Ride 

Snorkelling 

Scuba Diving 
Timings: 9:30 a.m. to 4:00 p.m.
The beach is available for day visits from 9 AM until 4 PM. If you want to undertake adventure sports, come between 10 AM and 2 PM. At 4 PM, the beach shuts.

#3. Kalapathar Beach 
Kalapathar Beach is one of Havelock Island's most popular beaches, featuring a long length of silky white sand and large black boulders opposite the turquoise water. Kalapathar Beach is called after a Black Road (Kalapathar in Hindi) that runs parallel to the shoreline on Havelock Island's one point. The beach is modest, but the access to it is excellent. 
The beach's mesmerizing sunset views make it an ideal place to spend some quiet time, and the beach is not too popular, ensuring that it remains pristine to this day. The turquoise-coloured ocean can be seen from the road on the way to the beach, which adds to its allure. The silver sand contrasts sharply with the dark boulders that line the seashores. The beach is surrounded by thick green vegetation. 
Timings: All Day
Entry Fee: No Entry Fee 
#4. Vijaynagar Beach 
Vijaynagar Beach is one of Havelock Island's most popular beaches, with visitors coming for beach exploration, bird watching, fishing, hiking, and exciting water activities, including snorkeling, surfing, sailing, and swimming. The beautiful beach has a lengthy stretch of white sand, and the immaculate turquoise sea reflecting the brilliant blue sky is a sight to see. Vijaynagar Beach is well-connected to the mainland due to its location on Havelock Island. From Havelock Jetty, auto-rickshaws and cabs are accessible. 
Timings: All Day
Entry Fee: No Entry Fee 
North and Middle Part Trip to Andaman
---
The North and Middle Andamans are the least explored but most environmentally varied places. The district headquarters are at Mayabunder.
The beautiful settlements of Rangat and Mayabundar are the most well-known features of the Middle Andaman Islands. In the Middle Andaman Islands, Rangat is a renowned tourist destination. Amkunj Beach, Dhani Nallah Mangrove Nature Walk, Errata Mangrove Park, and Errata Creek are among the area's attractions. Mayabunder provides breathtaking views of mangrove-lined tidal streams, as well as the opportunity to swim in the beautiful blue-green seas of Avis Island and witness the turtle nesting grounds at Karmatang Beach.
The Saddle Peak National Park, the crystal pure blue seas of the Ram Nagar beaches, Ross and Smith islands, Kalipur and Lamiya bay, and mud volcanoes are just a few of the tourist attractions in North Andaman.
Top Tourist Places to Visit in North and Middle Andaman during a trip to Andaman:
#1. Diglipur 
Diglipur, a big island in the North Andaman Sea, is a haven for wildlife. Rows of tropical woods, mangroves, and beautiful beaches teeming with unique marine life may be found on the island. This island is home to Saddle Peak, the highest point in the Andaman and Nicobar Islands, which may be reached through the Saddle Peak National Park. The Kalpon River, the only river that flows across the Andamans, may also be found here. Diglipur is readily accessible from Port Blair; take a boat to Aerial Bay Jetty at Diglipur, which is near Kalipur. 
Ross and Smith Islands
Ross and Smith's islands are a 20-minute boat cruise from Diglipur and one of its most popular attractions. These two islands are a must-see on any journey, with crystal blue water, coral reefs, and a wealth of picturesque beauty. The two islands are joined by a thin route of a white sandbar that may be walked on, adding to your experience.
Visitors may go through dense tropical mangrove woods, explore extensive white sand beach lengths on both islands, and go snorkelling on occasion. The magnificent Ross and Smith Islands are free to visit, but you must get prior permission to take the boat ride from Diglipur's Aerial Bay Jetty. 
Saddle Peak National Park:
Saddle Point, at 732 meters, is the highest peak in the Andamans and is surrounded by the lush evergreen forests of Saddle Peak National Park, making it a popular tourist destination. To go through, you'll need permission from the Forest Department, which will cost you INR 250. But the effort is well worth it once you reach the top, where you will meet with one of the most breathtaking sites you will ever see: a panoramic bird's eye perspective over the North Andamans. The trip up there takes around 5-6 hours, and you'll be greeted with the Kalpong River stream every now and then.
Alfred Caves:
Alfred Caverns, a cluster of 42 caves strewn over the village of Diglipur, provides one of the most challenging hiking experiences in the Andamans. The routes are steep, narrow, and frequently treacherous and are not recommended for beginners or the faint of heart. The caverns have no set opening hours or admission costs. However, it is best to visit during the day. Take your time exploring the caverns and learning about their history for a unique, adventurous, and exhilarating experience.
Ram Nagar Beach:
Ram Nagar Beach is popular because it is one of the Andaman Islands' least congested beaches, with plenty of options for pure beach enjoyment. If you're a beginner, though, it's best to be careful since the eaves are perilous, and the coral reefs are noted for being jagged and deadly. If you have time, there are mangrove woods to explore beyond the shore. Otherwise, a day spent sunbathing and swimming on the sea's edge at Ramnagar Beach is a fantastic way to spend a day. You could discover groups of Olive Ridley Turtles nesting and breeding on this beach if you're fortunate.
Mud Volcanoes:
A network of mud volcanoes known locally as Jal Tikry is located at Hathilevel, some 20 kilometres from the centre of Diglipur. This collection of ancient and young, active and dormant mud volcanoes, nestled in the verdant woods of Shyamnagar, offers a unique chance to discover Mother Nature's wonders. There are no entrance fees, and you may go hiking at any time of day. However, it is best done between dawn and sunset.
Kalipur Beach:
If you missed the turtles at Ramnagar Beach, Diglipur's Kalipur Beach would more than make up for it. During the breeding season, this beach is a key nesting place for Olive Ridley turtles, and you can see the large and little turtles poking their heads out of their shells and gently creeping their way across the sand and into the clear water of the sea. With rich, warm white sand and green woods in the backdrop, the beach itself is a stunning sight. 
#2. Baratang Island 
Baratang Island, also known as Ranchiwalas Island, is a lovely tiny island located in the North and Middle Andaman Administrative District, approximately 100 kilometres from Port Blair. Mangroves, mud volcanoes (India's only ones), and limestone caverns are among the well-known features of the island. 
Baratang Island, unlike Havelock Island, is not as developed for urban tourism and is mostly used as a base for natural viewing. The government boat service that operates between Port Blair city and the Phoenix Bay Jetty may take you to Baratang island. The Andaman Trunk Road, which links Rangat and Mayabunder, runs through the beautiful green jungles of Baratang Island.
Highlights: 
Limestone Caves and Mangrove Forests

Mud Volcanoes 

Bird Island 

Baludera Beach 
Timings: Reach, go through the forest, and finally to the island. One must be a member of a convoy. The first lot begins at 6:30 AM and ends at 2:30 PM. You may adjust your travel plans appropriately. The first convoy's schedule is as follows:
Start at 6:30 AM, accompanied by security forces, from Jikaratang to Nilambur jetty.

9:00 AM – take a 20-minute boat journey to Baratang Island 
#3. Lalaji Bay Beach 
Lalaji Bay Beach, on Long Island, is a lovely site accessible by a short boat journey from Errata Jetty. The ride takes you past a beautiful Mangrove stream before arriving at a white sand beach. The Lalaji Bay Beach, with its gorgeous white beaches and crystal blue water, is a beautiful spot to rest and refresh. 
Timings: All Day
Entry Fee: No Entry Fee 
#4. Amkunj Beach 
In Rangat, Amkunj Beach is also known as an environmentally friendly beach. It has a rocky beach and is not suitable for swimming, but it is worth taking a leisurely walk across to appreciate its beauty. Tourists may relax on wooden seats along the coastline and watch the waves crash against the rocky ground. The greatest times to go to the beach are during sunsets and sunrises. It is also well-known for its turtle sightings. 
Timings: All Day
Entry Fee: No Entry Fee 
Popular Water Activities in Andaman must try while trip to Andaman:
---
#1. 
Snorkeling
Snorkeling is yet another popular activity in the Andaman Islands. Individuals from all over the world go to the Andaman Islands only to partake in the snorkeling sport. Snorkeling allows you to discover the underwater world in a whole new way. Snorkeling, often known as the second level of swimming, allows you to obtain the best view of the marine creatures.
Snorkel with the colorful fish and see the buried coral reefs. While undertaking this activity, you will be provided with several types of equipment and sorts of equipment. Enjoy this amazing movement for around 15 minutes, and then submerge to grab those happy minutes.
Elephant Beach, North Bay, and Jolly Buoy are the greatest places to go for this sport.
#2. Sea Walk
The Sea Walking is famous amongst the most popular off-the-beaten-path activities in Andaman. While doing this one-of-a-kind pastime, relax in the submerged environment. You will be transported on a pontoon to the locations where you can see aquatic life. Sea walking is a new hobby that is gaining popularity in the Andaman Islands. While you are getting the most out of this development, you will be accompanied by an expert guide.
Enjoy a safe and empowering submerged stroll on the seabed (about 6-7m depth) while admiring the outstanding marine presence, which includes beautiful fauna, corals, and a diverse array of fish. While participating in this exercise, you will be provided with a head adapter and proper breathing equipment.
This activity is very well-known on North Bay Island's Elephant Beach in the Andaman Sea.
Scuba diving is a must-do when in the Andaman Islands. Scuba diving attracts tourists from all over the globe to this location. This plunging experience in Andamans is the most favoured activity in Andamans, with the purplish-blue seas and beautiful reefs. Enjoy scuba diving in the ocean and learning about marine creatures.
This amazing exercise will last for 30 minutes. For your safety, you will be accompanied by a guide while driving. Dive deep into the water to learn about the Andaman's unique marine life. Your experts will direct you to the greatest dive sites for this thrilling pastime.
Havelock Island and North Bay Island are the most popular scuba diving destination.
Make your Andaman experience one remember by attempting these daring water outfits in the Andaman. According to the Andaman travel guide, the finest participation of your life will come from a combination of aquatic and aerial experiences in Andaman. While undertaking this thrilling move, locate the most remote part of the island. You'll have a whole different perspective on the area. The person on the lookout after parasailing is dragged behind a vessel and attached to a parachute.
Over the water, the craft excites you and raises you far into the air. The parasailor has no control over the parachute. In the Andaman, parasailing is highly regarded in seas with acceptable calm waves. Parasailing will take no more than 5-10 minutes.
The Rajiv Gandhi Water Sports Complex in the Andaman Islands is the best place for parasailing.
If you're looking for a thrill, try zipping through the waves in a criss-cross pattern. The cold breeze and splashes of ocean water on the face will add to the experience's appeal and memorability. When you arrive, knowledgeable instructors will teach you the fundamentals of jet skiing. After all of your training, you'll be speeding across the water and hustling against the wind, satisfying your need for adventure.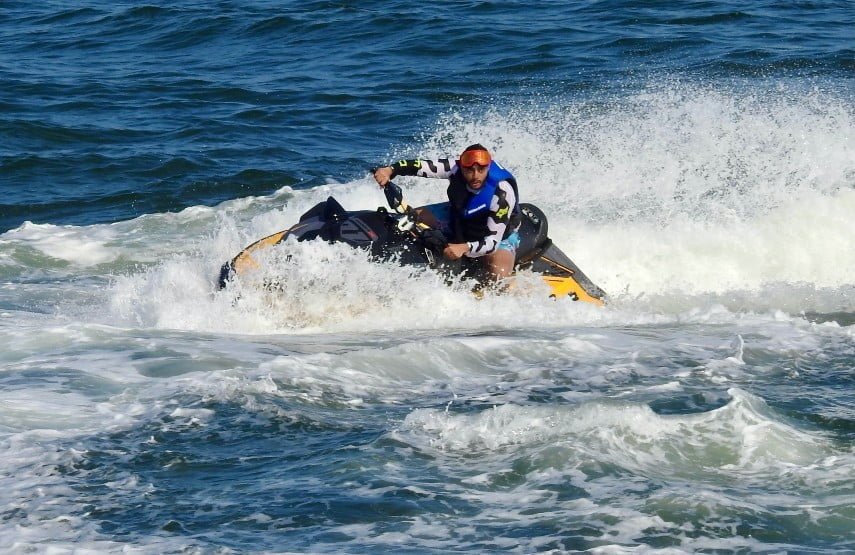 Rajiv Gandhi Water Sports Complex, Elephant Beach in Havelock Island, Carbyn's Cove Beach in Port Blair are the places where you'll find the best jetskiing services. 
Seakart is an adrenaline-pumping water activity that will be offered for the first time in India in 2020 and will be introduced in the Andaman and Nicobar Islands, which will be the world's third destination after Mauritius and Dubai. The ride begins at Corbyn's Cove Beach and continues to Flag Point at Ross Island, where it returns, covering around 5-6 kilometres in total. The journey lasts around 20 minutes, making it one of the Andaman Islands' longer water excursions.
#7. Semi Submarine 
One of the greatest ways to see the deep waters without getting wet is to go on a Coral Safari Semi Submarine tour. The crystal blue seas around North Bay island provide a fantastic chance to see the extensive coral population as well as the swarms of fish that live there
One of the finest features of the Semi Submarine is that it has no restrictions on the depth of water it may explore. Semi-submarines, unlike scuba diving and glass-bottom boats, can explore considerably deeper oceans, where you may see rare fish species such as huge tunas and manta rays.
Immerse yourself in the Andaman Sea's underwater splendor without ever getting wet. From the luxury of your cabin, you can see and enjoy the rich corals and marine life around Port Blair on the Andaman Dolphin Glass Bottom Boat excursion, which is one of the most diverse experiences in Andaman.
Dolphin Glass Bottom Boat Rides are exclusively accessible on Andaman's North Bay Island.
Popular Seafood must try Trip to Andaman:
---
Seafood is available all around India, but none compares to that found in the Andaman Islands; it's that wonderful. The cuisines of Andaman, with Thai tastes and Burmese spices, are very delicate in flavour and diversity. Geography has a major part in the cuisines of Andaman. It's no surprise that Andaman is an epicurean hotspot. Prawns, fish, lobsters, and crabs are the most popular seafood delicacies in Andaman, and they are readily accessible at restaurants and hotels. 
The seafood served at Andaman hotels may be a touch pricey, but it is well worth the additional money. In Andaman's various regional markets, mix with the islanders, try seafood, and drink local beverages for the finest experience. The nicest thing about the villagers' seafood is that they prepare it according to traditional customs and traditions. 
The Lighthouse House Residency's Tandoori Fish is a must-try. It is most popular in Andaman because of the unusual cooking process, which entails covering meat with a variety of spices and then cooking it in an open tandoori. Apart from seafood, Mainland Indian and Chinese cuisines are available during a trip in Andaman. However, they are exclusively accessible in certain resorts. 
Conclusion: 
These are the best places to visit in Andaman while Trip to Andaman. So, what exactly are you waiting for? It's time to set sail towards the Indian Ocean's secret gem and be enchanted by the allure of this enigmatic island. Plan a vacation to the Andaman Islands with your loved ones for an unforgettable holiday experience! Have you been there before? Share your favourite island memories with us and inspire others!