Travelling helps us relax, and rejuvenate and it broadens the horizon of our vision. That's why people are so keen to travel these days. But amidst all these beautiful reels and posts of marvellous places, you might get confused about which places to explore next and all about the place like how to reach, what to explore, things to do there, where to stay and so many more. Let's put an end to your list of questions. This article is going to tell you everything you need to know about a very beautiful place, Baratang island.
Baratang island is part of the Andaman islands under the Indian administration. It is 110 km north of Port Blair. This island offers you a large range of natural wonders; from large limestone caves to dense mangrove creeks. You get to explore tiny mud volcanoes as well as tidal swamp forests. This island has everything to offer you, from Forests to oceans.
The Best Places to visit on Baratang Island
---
Baratang island offers you a lot of natural wonders that you must visit if you ever go there. As mentioned earlier,  it has a variety of things from jungles to mangroves to caves and of course several beaches. As it is a less visited tourist spot, you can take advantage of fewer crowds and visit the most amazing wonders of nature.
Limestone Caves:
Dark when you enter, but as soon as you turn on your flashlight, you will be amazed to see the wonderful creations of nature. Different structures have been created when CO2 is dissolved in water. The interesting shapes taken by limestones will make you go like "Woow ". But to experience this amazing architecture of nature, you are advised to wear a good pair of shoes because to reach the caves, you may require a lot of walking or trekking etc.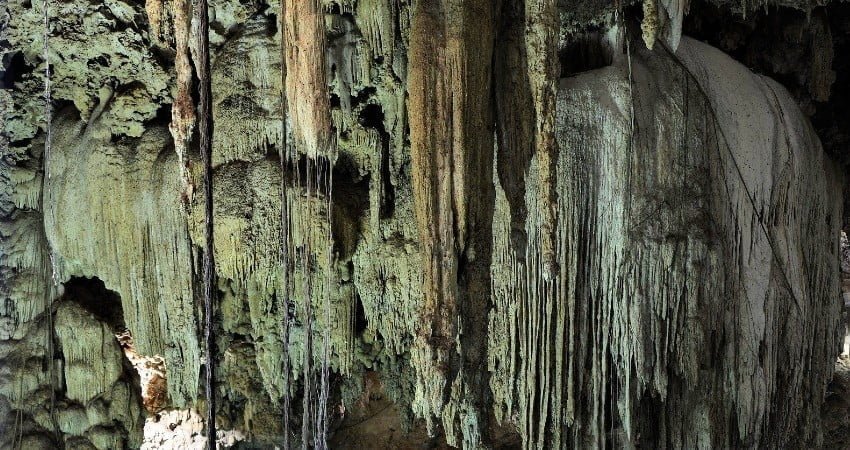 Mud Volcanoes:
With no ticket fee, you can see the mud volcanoes any way you want. These volcanoes are formed by the ejection of gasses and liquids from the interior of the earth. Major gasses like methane carbon dioxide and nitrogen are released during a volcanic eruption.  These eject everything in a semi-solid state. You may think this anaesthetic mud volcano is not worth your time,  but this is the only known mud volcano in entire south Asia, so do give it a try.
Parrot island:
Baratang island is heaven for bird watchers. So many varieties of birds you get to see here. You get the most beautiful sight during dusk on this island. No ticket fee and it is open for everyone till sunset. You should not miss the view of birds flying over the orange skies which looks unreal. You can also go for boat rides to see the mangrove forest here.
Baludera beach:
This is an isolated beach and one of the most beautiful beaches in Andaman. Its isolation has preserved its natural beauty. If you want to escape the crowd of tourists on famous beaches and experience virgin nature, this beach is for you. It þhas a low tide and is comparatively safer but you should be careful wherever you visit.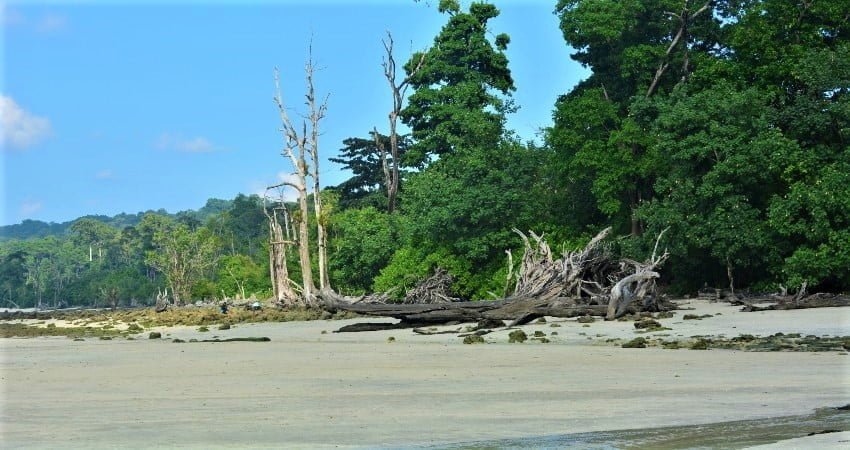 Things to do on Baratang Island
---
As mentioned earlier,  Baratang island is all about the limestone caves, never explored beaches and mud volcanoes. So the best thing you can do is explore and experience those.
Apart from this, you can go for adventures like Kayaking, Mangrove Safari, canoeing, sea walking etc. You can also go for boat rides to your favourite island, and trek to the limestone caves and mud volcanoes.
Baratang island is not about doing so many things and making life again about ticking off certain activities.  It is about relaxing, spending time with virgin nature, appreciating the wonderful creations of nature and rejuvenating.
Where to Stay on Baratang Island
---
Staying overnight on Baratang island is very expensive and tricky. There are not many private hotels and resorts. There are some governmental guest houses but these are reserved for locals and government officials. But if you want to stay here, you need to book it months in advance from Port Blair.  Walk-ins are not allowed.
The only private resort is "Dew Dale" which is a little far from the city, but it has clean and spacious rooms; so a good option if you want to spend a night on Baratang island. Due to the unavailability of private resorts and hotels, it is better to go for a one-day trip to Baratang island and come back after the evening sightseeing on parrot island. You will reach the capital late at night and can have a cheaper and easier stay in the city.
Talking about food, there are no fancy restaurants here. But you can get local food in so many smaller eateries, food stalls etc. Also, you can have south Indian and Bengali dishes, and chai stalls are almost on every corner. So food will not be a problem, unlike the stay.
How to reach Baratang island
---
As mentioned earlier, Baratang island is 110 km north of the capital city of Andaman and Nicobar islands, Port Blair. This island is not as well developed as other islands of the union territory. It experiences a rural way of life to date. So getting here can be a little tricky and expensive.  But the natural wonders like caves, virgin beaches, bird watching experiences this island offers are worth the journey.
The most convenient way to reach Baratang island is by private vehicle. It can be a private car or a reserved AC bus. Do not think of going by two-wheelers, because these are not allowed in Baratang. But if you are looking for the cheapest way to reach there, it is by government bus from Port Blair.
You have to travel through Andaman Trunk Road. You have to also pass through a convoy that is one short vehicle ferry connection among the islands. It is a 4-hour ride from the capital city. It can be exhausting but the green forests and blue ocean make it interesting and worth taking to Baratang Island Day Trip
The one important thing you should keep in mind is that while going through the ATRs, you may notice some Jarawas, are the indigenous tribes of Andaman. You are not allowed to interact with them in any way; be it by giving them food, clicking pictures, talking to them etc.
Best Time To visit Baratang island
---
Baratang island is a tropical place, so its temperature ranges between 22-32°c. Summers here are not extremely hot but due to humidity, the heat hits hard. During the monsoon, the island experiences heavy rain. So looking at this, winters are the best season to travel to Baratang island. Winter here is so calm and relaxing. Negligible rainfall and calm sea waters welcome you to the island. With the relaxed water, you can also go for so many adventurous activities like scuba diving, canoeing and sea walking etc. These activities will fill you up with courage, confidence and a unique lifetime experience.
In the winter season, not only does the rainfall decrease but also the weather turns out to be pleasing and refreshing. The temperature remains between 20-26°c  giving the tourists an extremely comfortable stay on the island.
In addition to the winter season, this island also attracts a specific group of tourists during the summer. During the hot season, the island becomes a rejuvenating experience for everyone who wishes to bask in the bright sunlight. The great combination of sand and glorious sunlight during the summer mornings never fails to attract a bunch of tourists even during the hot summer.
Even in the monsoon, some people get attracted to visit this Baratang island because of the hazy and cloudy atmosphere created around it. This resembles a pretty romantic getaway and enjoying this beautiful romantic weather amidst the blue ocean and green forest attracts a lot of couples from the nearby areas of the island.
Although winter is considered to be the best time to visit Baratang island because of the calm weather condition, the island amazes you whenever you visit.
Conclusion:
---
Baratang island should be on your list any day you are planning a trip to Andamans. This has the most wonderful places created by natural forces like the caves. Exploring all these will make you appreciate nature and natural forces. This island is a great place to relax, escaping from all the chaos we face in our city life.
Away from the chaotic lifestyle of the city, this island offers you a peaceful and comparatively rural way of living which is budget friendly and a treat to your soul. So, plan your next trip to Baratang island keeping all the information given above in mind.