Sea Shell Resort Havelock Beach resort is situated at a prime location in Havelock Island just 10 minutes walking distance and 3 minutes by cab from Havelock Jetty. The oceanfront resort provides an excellent panoramic view of the crystal clear emerald waters and coconut palm trees studded beach. All the rooms are well-appointed suites with modern amenities, warm and welcoming staff ensure that guests are comfortable and cared for in Sea Shell Resort Havelock. Taste some incredible foods in our all-day dining "Urban Tadka" which serves a multi-cuisine fare. "Fluidz Beach Bar" gives you a splendid view of the sea with mouth-smashing mocktails, cocktails, & mouthwatering seafood.
We have experienced and trained staff. The resort is couples-friendly so, can relax and enjoy the serene beauty of the resort. You can also spend some quality time with your loved ones on a Candle Light Dinner on the beach. Explore indulge in some Sattva Spa therapy or choose our in-house scuba diving center to explore the ocean. With the swimming pool having a kid's pool and a Jacuzzi, you are bound to have a memorable and fun time with your family and friends at Sea shell beach resort in Havelock (Swaraj Dweep) Island.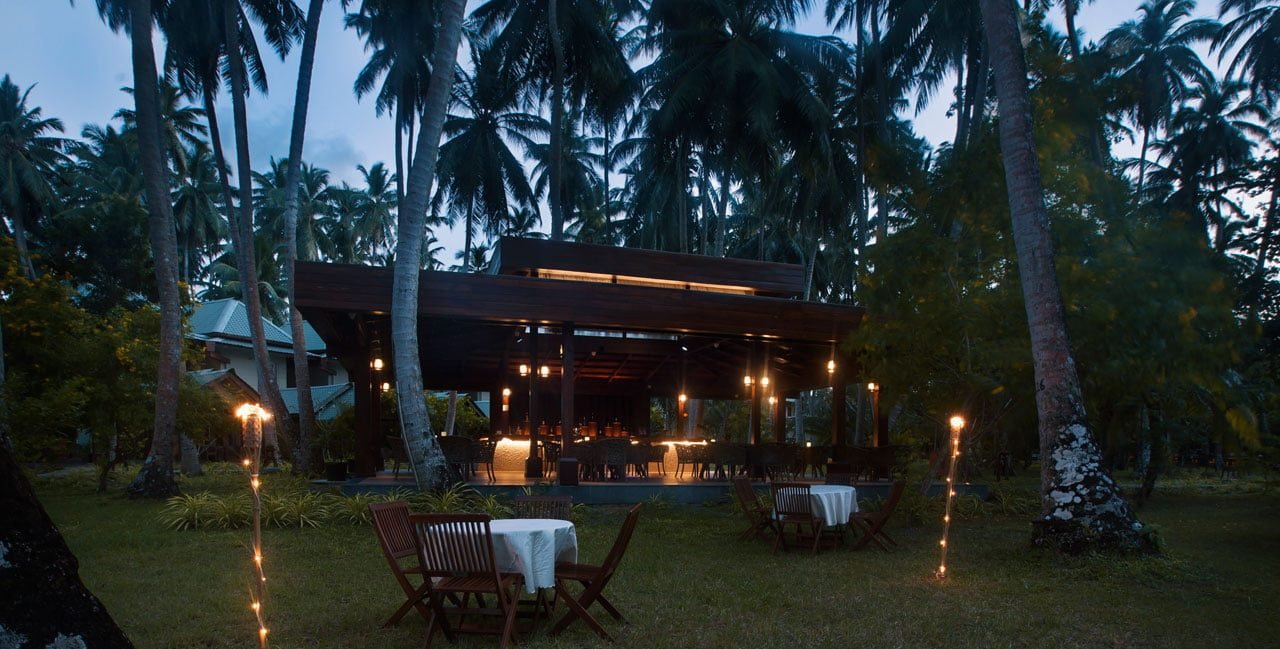 Rooms category offered by Sea Shell Resort Havelock:
The beachfront resorts offer six various categories of villas and cottages. All the villas and cottages are fully wooden interiors with luxury modern amenities available in Sea Shell Resort Havelock. Six categories of villas and cottages are namely
Andaman Villa:
Andaman villa is a base category villa in Sea Shell Resort Havelock. This villa is a double stored single villa, the bedroom is in an upper part with balcony from the balcony you will get a partial sea view and Bathroom is located in the basement.
Andaman Cottage:
Andaman Cottage is a second category room in Sea Shell Resort Havelock. This cottage is a Double stored building with four rooms, two-room on the 1st floor and two rooms in the basement. All the rooms are having a balcony with a garden view. The bathroom is attached to the room and all the luxury premium amenities are available here.
Andaman Chalet:
This is the third category room with all the large wooden roof, from the balcony you will get the beautiful sea view from Andaman Chalet.
Andaman Lagoon:
This is the most popular room in Sea Shell Resort Havelock. Andaman Lagoon is a large wooden room with a spacious balcony from where you will get a panoramic ocean view and a coconut palm garden.
Andaman Cabana:
Andaman Cabalana is a large room with a spacious balcony from where you can enjoy the Turquoise sea and Garden. The atmosphere of the room with luxury amenities will make your Andaman Trip memorable.
Andaman Bungalow :
This is the Top Luxury room in sea shell resort havelock with premium facilities. Andaman Bungalow is the perfect stay for a family trip where you will get a large spacious room with a private balcony to sea view. Work desk and private seating area are a perfect combination to make a balance of your holiday and corporate life.
In-Room facilities offered by Sea Shell Resort Havelock:
Sea Shell Resort Havelock  is one of the most popular 4 star resort in Havelock Island and this Resort is known for its premium service to customers.  Sea shell resort Havelock is offering Room facilities that are;
Ac Room
Queen-size Bed
Tea/ Coffee maker
24×7 running hot and cold water
Electronic safe
LED Tv
Spa on request
Dryer
Toiletries (Soap, Sanitizer, Tooth Brush, Paste, Shampoo, Tissue, Sanitizer, shower cap etc)
Intercom
Mini Fridge
Laundry Facilities
Room services
Shared swimming pool
Balcony to Sea/Garden View
Large wooden Interior
Dining offered by Sea Shell Resort Havelock:
White Lotus multi-cuisine restaurant offers world-class mouth-watering dishes and their Bonova Cafe and Pub is an ideal place for exploring the charm of Havelock Island. High Tide Bar is located just near to Beach and Swimming pool so, you can enjoy your evening with Chilled beer or hard drinks.
How to reach Sea Shell Resort Havelock:
Havelock Island has located 57 km from Port Blair and the best way to reach Havelock Island is seaway or airway. The airway is not available right now for travelers or tourists. the only way to reach Havelock island is high-speed catamaran (Makruzz, Makruzz Gold, MTT Majestic, Sealink, Nautika & Green Ocean) or Govt. Ferry.  You can take a high-speed catamaran or Govt ferry from Haddo Jetty, Port Blair. The high-speed catamaran will take 90 minutes to reach Havelock from Port Blair and Govt. ferry will take 150 minutes to reach Havelock Island from Port Blair. After reaching Havelock Island (Swaraj Dweep), you can take a taxi to reach Sea Shell Resort Havelock from Havelock Jetty, it will take just 5 minutes by cab from Jetty.
Things to do at Havelock Island (Swaraj Dweep):
Havelock (Swaraj Dweep) Island is the most popular island in Andaman. Where you can explore adventure marine life with your family and friends. You can do Scuba diving, Snorkeling, Jet Ski, Parasailing, Sea walks, Kayaking, Fishing, Island Hopping & Mangrove Safari.
Places to visit near Sea Shell Resort Havelock:
The nearest attractions are;
Radhanagar Beach: Sea shell Resort Havelock is located heart of the Island so, you can reach the world-famous beach of Asia's no #no.1 Radhanagar Beach within 30 minutes by Cab or you can hire a Scooty to visit Radhangar Beach. For scooty you just have a driving license and the charges are approximate Rs.500 -750 for 24 hrs and Oil on your own.
Kalapathar Beach: Kalapathar beach is famous for its sunset viewpoint so, you can plan your evening trip from the resort and it's just 35minutes far from Resort.
Elephant Beach: This beach is ideal for water sports activities like Snorkeling, Jetski, Parasailing & Glass bottom boat ride, etc. You can take a cab or scooter to reach Havelock jetty and from there you have to take a small speed boat to reach Elephant Beach. The speed boat will take around 20 minutes to reach Elephant beach from Havelock Jetty. To reach Havelock jetty from Sea Shell Resort Havelock you have to hire a cab to reach Jetty its just a 5 minutes drive from Resort.
Lighthouse Beach:  This beach is a substitute for Elephant beach if Elephant beach will be closed due to any reason that time you can go to the Lighthouse beach. It's a neat and clean white sandy pristine beach.